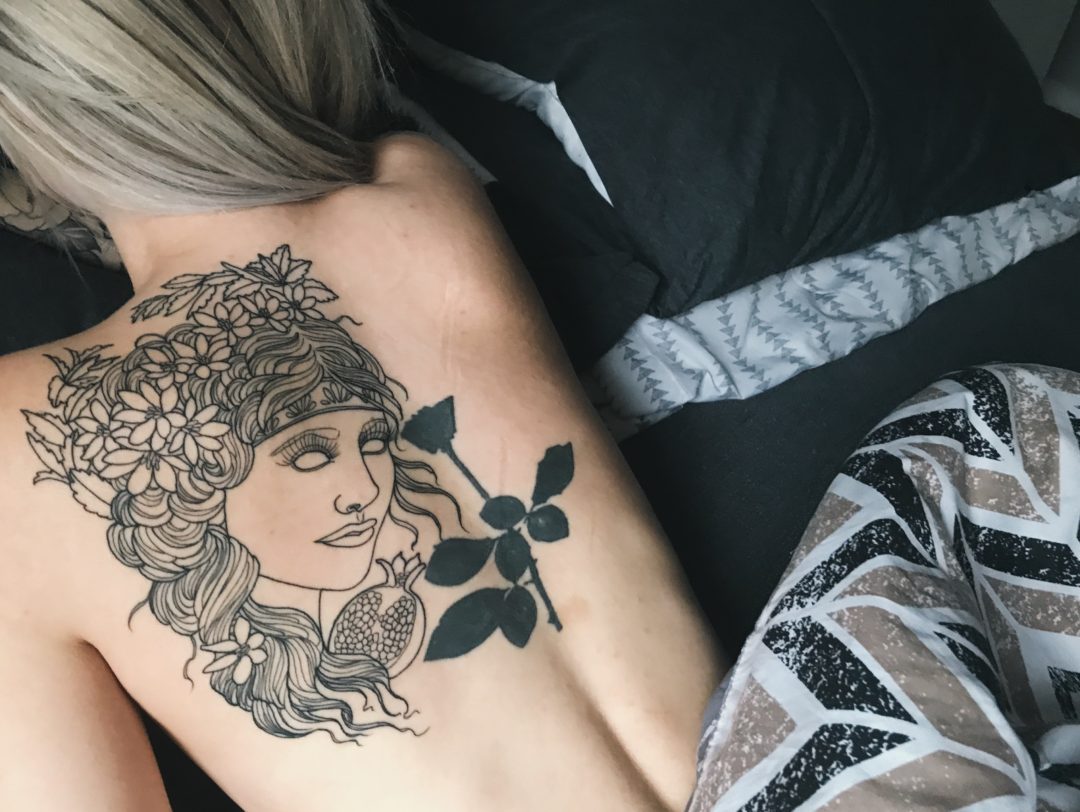 Tattoo Update: Persephone Outline
I finally pulled the trigger and decided to start a massive back piece. I went through a lot of ideas, but finally settled on some badass Greek mythological women. For my first session, we did the outline of my Persephone tattoo.
Tattoo Progress
I also had a rose on my back before starting this project (shoutout to any Depeche Mode fans reading this), and decided to have my Greek mythological women surrounding it. We decided to start with Persephone, the Greek goddess of spring and wife to Hades, king of the Underworld. Lexy Mosh is my new go-to artist out here in Arizona, and since it was our first appointment together, a lot of it was spent discussing the individual women as well as the design overall.
I ended up only sitting for about three hours, which is actually not a long time for me, but Lexy accomplished so much in that time. She was able to outline the entire design of my Persephone tattoo. While I could have probably sat for a few more hours, I was afraid I'd get over it half way though the shading process. I hate having unfinished tattoos, so I wasn't looking forward to having a half-shaded tattoo. At least with just the outline done, it looks a little more purposeful.
Finding A Tattoo Artist In Pheonix
Since moving out to Arizona, I've had to fly back to California to get my tattoos worked on. While I'll still definitely be doing a lot of that, I knew that flying to another state every weekend wasn't realistic for getting my back done. Having to travel to get tattooed means that my sleeve has taken 2 years already, and isn't even done yet. I definitely didn't want tot be waiting years to get my back finished. I knew I had to find an artist closer to me.
Even though it's a major city, Phoenix has very few tattoo artists who have the same style has my current work. I know that every artist has their own unique style, but I wanted to work with an artist who has a similar style to the work I already have. While all my tattoos won't look exactly the same, I do want them to look cohesive.
After weeks of scouring the internet, I finally found Lexy Mosh on Instagram. Lexy tattoos out of High Noon: Moon Lounge in Phoenix. Located a couple doors down from the original High Noon tattoo shop, the Moon Lounge definitely has a more feminine touch. Three of the four artists working there are female. While I had to book Lexy about 3 months in advance, it was totally worth the wait. I'm so incredibly happy with the designs for my back and I'm so stoked to have it (mostly) done by the end of this year!
Photography: Nathan Jelenich