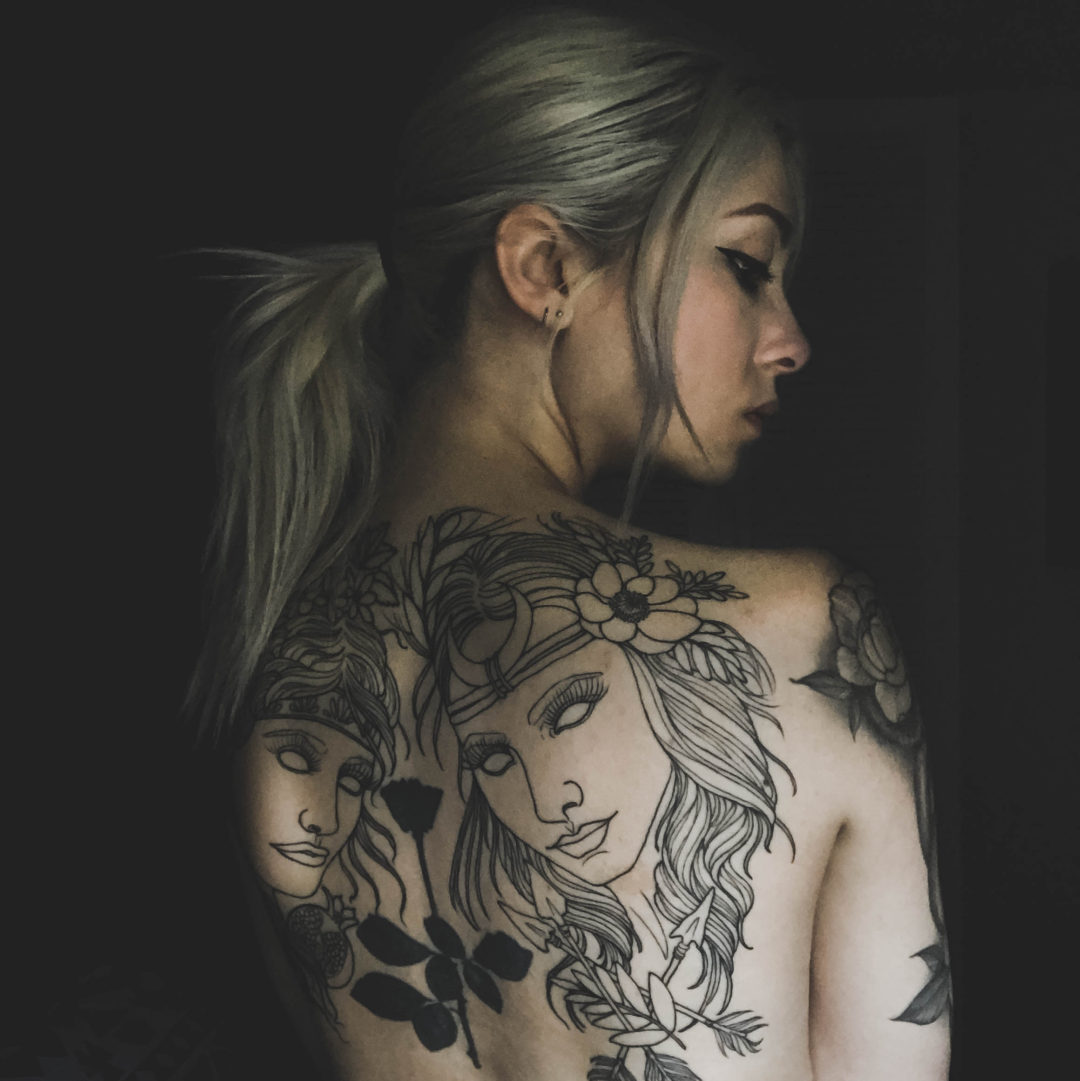 Tattoo Update: Artemis Outline
For the second session for my back piece, we worked on the outline for my Artemis tattoo. Per usual, Lexy absolutely killed it and blasted through this big outline in just a couple hours.
Tattoo Progress
For this second session, we were able to complete the entire outline of my Artemis tattoo. Because Lexy is right-handed and my tattoo is on the right-hand side, she said it was going to go by pretty quick. Luckily, she was right because my pain tolerance was at zero that day. Normally, I'll sit there for eight hours just so I don't have a half-finished tattoo. This session, I could barely sit through just a couple hours. Lexy ended up finishing the outline just as I was about to tap out.
You can read about my first session for my back piece here.
Also, be sure to check out my artist, Lexy Mosh!
About The Artemis Tattoo
Not only do I do a lot of research about the artist for my tattoos, but I also do a lot of research about the subject. If I'm going to have a piece of art on me for the rest of my life, I want to know as much about it as possible. While I've always been in love with the imagery surrounding Greek mythology, a lot of research went into which mythological figures I actually picked.
Artemis is mainly known for being the goddess of the hunt. Traditionally, hunting has always been seen as a man's activity. Women are always portrayed as staying home to cook and raise the family while the men go off and hunt. I've always loved the fact that the Greek deity associated with this traditionally masculine activity is a woman instead of a man. Through many different Greek myths, it's pretty apparent that Artemis can hold her own.
According to many Greek myths, Artemis is also considered the goddess of the moon, or at least has a strong association with it. She's often depicted with a moon headband. Her sacred arrows are also made of silver, another nod to the moon's silver light. This would make sense considering her twin brother, Apollo, is the god of the sun.
I've personally always felt a strong connection to the moon and the night. I love how peaceful and calm everything is. Even in a big city that you know super well, the moonlight can change the entire atmosphere. When I lived in Los Angeles, I was literally nocturnal, usually waking up in the late afternoon and going to sleep in the early morning. The hours when the moon was out was alway my favorite. Even with six crazy roommates, all their pets, and the loud neighbors upstairs, everything seemed…calm. Out here in the desert, I love the moonlight even more. Without the bright city lights, the feelings I get at night are even more intense.