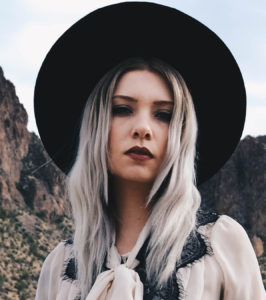 Known for my white hair, pale skin, and love of leather jackets, I received the nickname "Leather Doll" shortly after high school.
I inherited my love of fashion from my grandmother, who worked as a seamstress in Hungary until she came to the US and eventually opened her own clothing store. I grew up watching shows like Project Runway, What Not To Wear, and The Rachel Zoe Project. In high school, I became obsessed with music and the punk DIY aesthetic. In college, I earned a degree in Fashion Merchandising and discovered blogging as a creative outlet to express my style. After college, I moved from my quiet California beach-side town to Los Angeles. I recently moved from California to the Arizona desert.
Today, I would describe my style as being edgy with a touch of bohemian and romantic styles. While I will always have that little bit of punk rock left in me, I've expanded my taste in fashion.